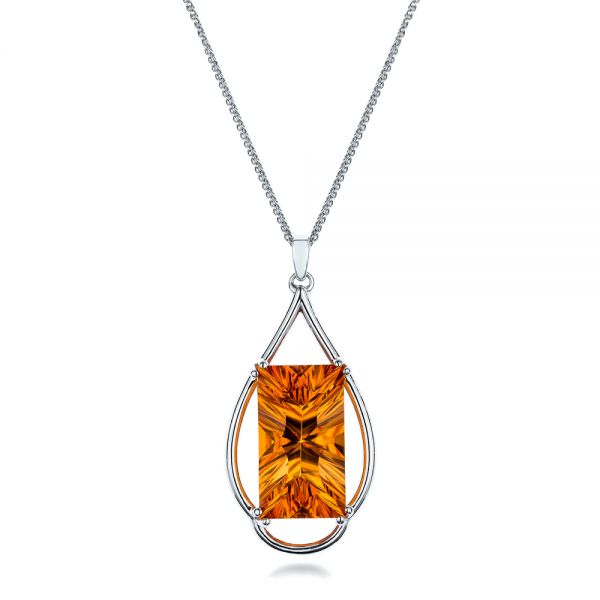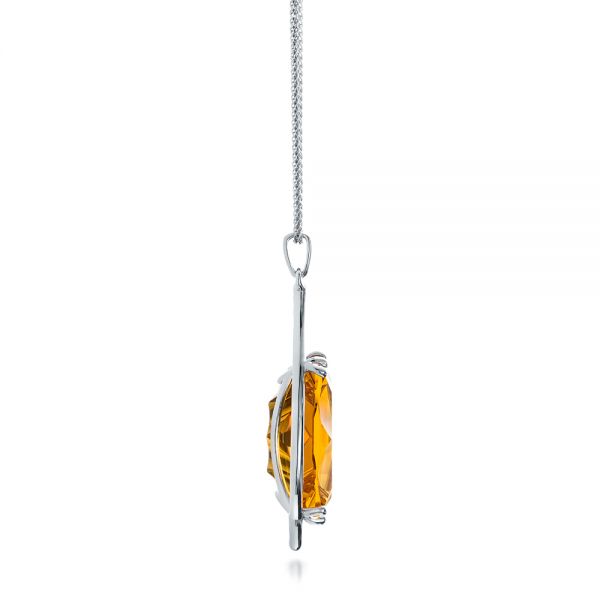 Custom Citrine Pendant
Item #102140
$2,282
Pendant Description
This custom pendant was built around the special cut citrine center stone, and the elegant setting used really works to highlight the stone's natural beauty. Our client wanted to surprise his lovely wife, and we were able to perfect the design and get it to him right on time.

Citrine Center

The citrine at the center of this pendant is a 10.13 carat stone with a special rectangular cut and a rich orange color. The client purchased the stone separately at one of our holiday gemstone parties where we feature unique pieces from an award-winning gem cutter. He then found a design he liked for the setting and worked closely with our team to customize it perfectly.

Pendant Design

The stone in this pendant is held securely in a double prong setting crafted from 14k white gold. In order to ensure the security of the stone, we added extra support in the back but managed to keep the appearance of the stone being suspended when viewed from the front, which was something the client especially liked.

We were able to get this detail just right thanks to the 3D imaging technology we use for all custom projects. Through this program, we created a design that the client could view and tweak as much as he wanted before we put the pendant into production. Browse our Necklaces Gallery for stunning gift ideas for you or someone you love.

Custom Stone Setting

If you're looking to create a truly unique piece of jewelry, one of the best places to start is with a custom cut gemstone. Whether you have a stone that holds special meaning for you that you'd like us to incorporate into a new setting, or you want us to source the stone for you, we have the knowledge and resources to make your dream a reality. Custom cut gems like the one featured in this design are not readily available; ask our Gemstone and Design Experts to help you find the perfect specialty-cut gem for you.


Includes: Gemstones , Polished , White Gold , Color Gemstone , Custom Cut Gemstone , Citrine , Pendants
Details
14k White Gold Pendant
Citrine - 10.13 ctw
Chain Includes
16" 1.3 mm
Josph Jewelry

Lindsay O. - Sammamish, WA - October 2013 - Yelp

I love Joseph Jewelry. Everyone in the shop is wonderful. Bonnie helped me and my husband design my engagement and wedding rings. We were part of the whole process, which was so cool. We recently came back to have a pendant designed for my birthday. Again, the service was excellent. I am proud to wear my pieces and let others know where we had them made.
Drop a Hint
To send your friend information about your selection, complete the information below and click the send button.
Your email address will only be used to inform your friend who send this email, unless you choose to recieve offers and news from Joseph Jewelry