Custom Hand Engraving
The custom hand engraving of jewelry is a skill that takes many years to master. But skill is not the only element required to make a master engraver. This is also an art form, and so the talent of the individual engraver plays a significant role in the quality of the finished product.
Here at Joseph Jewelry, we are fortunate to have a very talented hand engraver. The work is of the highest quality you'll find anywhere, and that enables us to offer you the opportunity to incorporate these types of elegant and personal details on your fine custom jewelry at a level of detail and precision that's second to none.
Custom Hand Engraving Styles
Our Custom Hand Engraving Gallery
Engraving Patterns
Because all custom hand engraving is completed here in our Bellevue, WA location, we can replicate any design or pattern you'd like to see. That means you can include a distinctly personal element on your piece, which will help enhance its significance and also ensure it's truly one-of-a-kind.
There are some basic styles used in jewelry engraving, and any of them can be customized to match your personal taste. Some common options include scroll, floral scroll, wheat, half wheat, leaf, half leaf, and celtic. Our experts can show you examples of all of these styles and more, as well as offer suggestions on ways to adjust them and make them unique to your piece.
While we can put just about any type of engraving on any item, the size and shape of the area to be worked on should be taken into consideration when you're making your decision about the type of engraving you'd like. For instance, the width of the band of a ring can determine which styles are possible to engrave on it, as well as which will look the best.
Relief Engraving
In addition to traditional engraving, where the design is carved into the piece, we also offer relief engraving. This is a very time consuming process and requires exceptional skill to complete properly. It essentially involves cutting away the background, leaving the design raised, and it is considered to be the most elegant and ornate form of engraving.
The added time and exceptional skill required to complete this type of engraving does make it more expensive as well. But the wonderful effect it creates means it is a truly exquisite detail to add to your custom piece.
Hand Engraving Tools
All hand engraving requires a tool called the graver, and there are different shapes of gravers for different styles of engraving. These gravers are created by the artist, and they determine both what shape is cut out of the metal during the engraving process and how deep the design goes.
Because the artist is the one shaping each new graver, their individual skill matters a great deal when it comes to the overall quality of the engraving once it's complete. The ability to make new specialized gravers is also what allows us to offer nearly limitless options when it comes to the types and styles of patterns that can be included on your fine custom jewelry.
The other main tool that our engraver uses is a bench microscope. This is essential due to the fine detail and precision required to complete this type of engraving at the level of quality that we provide.
Engraving Restoration
In addition to engraving new custom pieces, we can also restore the engraving on older pieces you already have. This type of repair and restoration service can really give new life to an older piece, and we will return it to you in like-new condition.
To complete any type of engraving restoration, we first identify the pattern that was originally used. We then select the appropriate tools and create new gravers if necessary to match the existing design perfectly.
We can also add custom engraving to an older piece even if it wasn't there to begin with. This is a great way to refresh an item, and it can also help you increase the personal significance of the piece. Whether you're looking to revitalize an old family heirloom or you want to make a new ring better reflect your personal style, our custom hand engraving services may be just what you're looking for.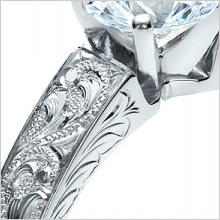 Textured Relief Scroll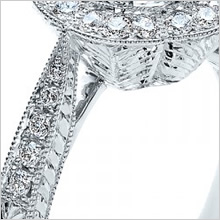 Half Wheat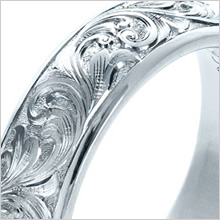 Relief Scroll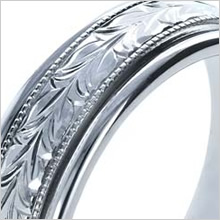 Wheat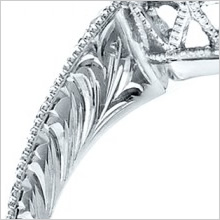 Half Wheat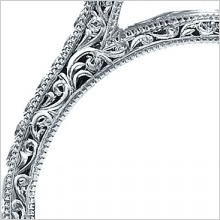 Open Scroll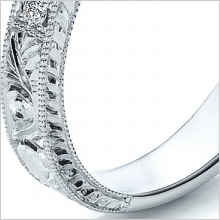 Scroll and Half Wheat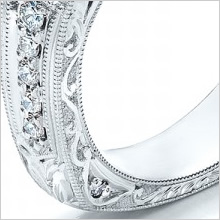 Relief Open Scroll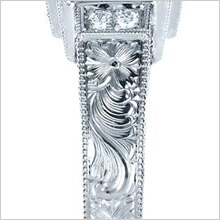 Floral Scroll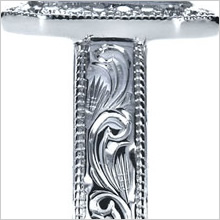 Scroll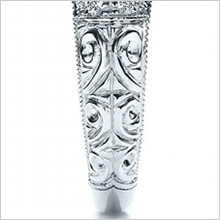 Double Scroll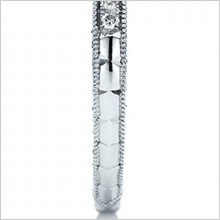 Custom Wheat