Fashion
A Perfect Purple For February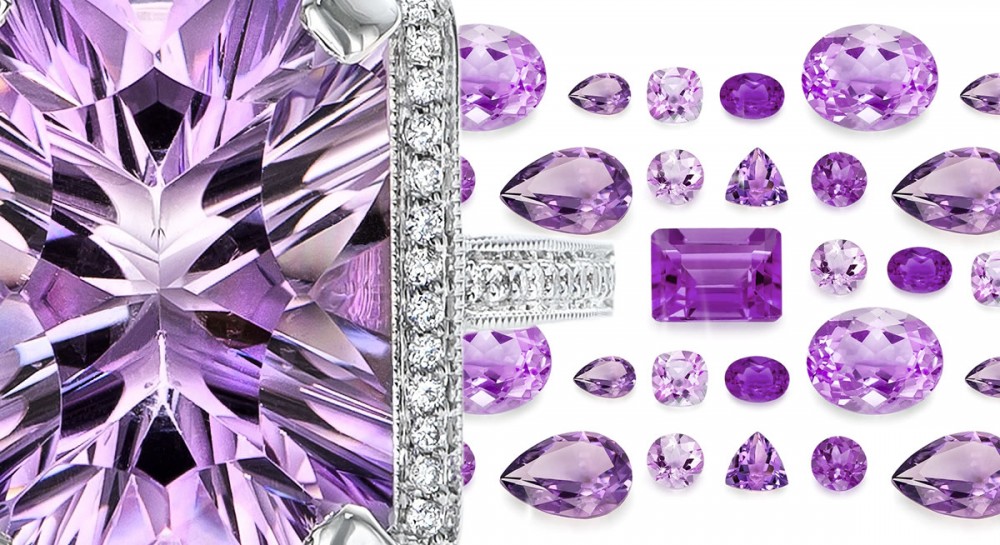 Amethyst is February's beautiful purple birthstone, and it is the perfect gift at any time of year. It is a variety of quartz and extremely rich in history and meaning. Read on to learn more...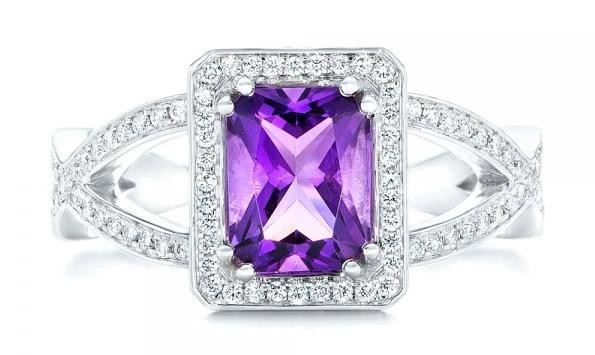 Custom Amethyst and Diamond Engagement Ring
Did You Know?
Amethyst, or amethystos, can be traced back to ancient Greece, where it was named literally "not drunk" because it was thought to prevent intoxication. The gem's grape-like color brought the association with alcohol and the wine god, Bacchus.
It became the birthstone of February because St. Valentine, the patron saint of romantic love, wore an amethyst ring carved with the image of Cupid.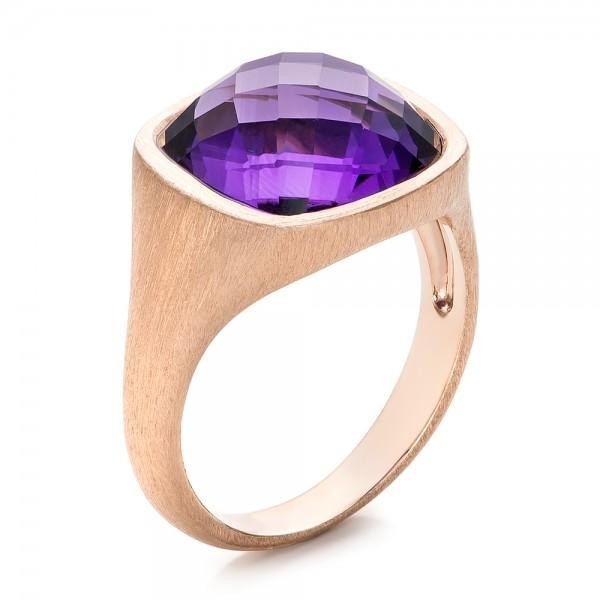 Amethyst Fashion Ring
Amethyst is thought to make the wearer clear-headed and clever.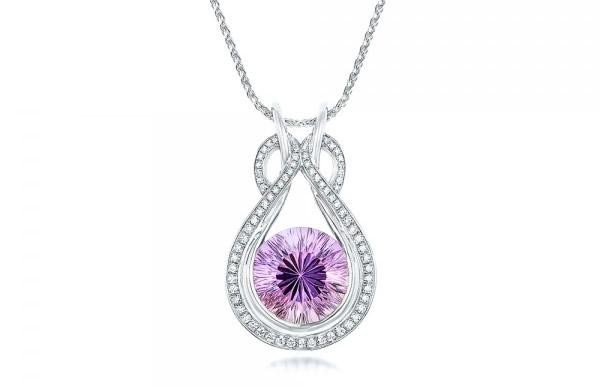 Custom Amethyst and Diamond Pendant
It was considered a precious gem until the 19th century, when large deposits of amethyst were found in Brazil, making amethyst more available to the masses as the most prized quartz variety. This new deposit also brought large-sized amethysts, which can be found in many fashion pieces of beautiful design. A single raw crystal could weigh as much as 164 pounds.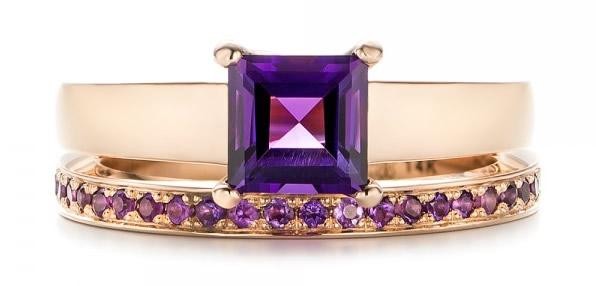 Custom Rose Gold and Amethyst Wedding Set
Amethysts, as the regal color of purple, frequently have appeared in royal and religious jewelry around the world.
Aside from the birthstone of February, amethyst is also the gem for 6th and 17th wedding anniversaries.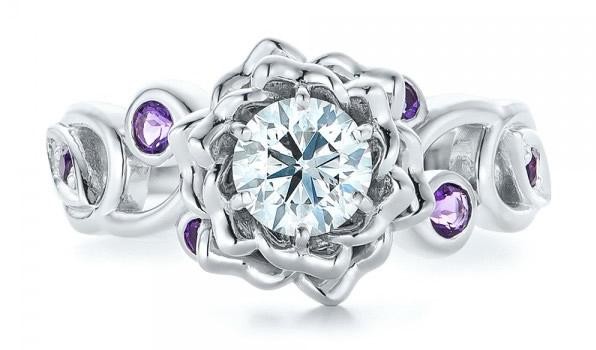 Custom Organic Flower Halo and Amethyst Engagement Ring
Gem Details
Amethysts come in varying shades from light lavendar-pink to deep purple. Although the most valuable shade is deep reddish-purple, every shade is gorgeous.
Most gems have high clarity, and cut shapes can vary. Its Mohs hardness score is 7, so amethyst is durable enough for wear during daily activities.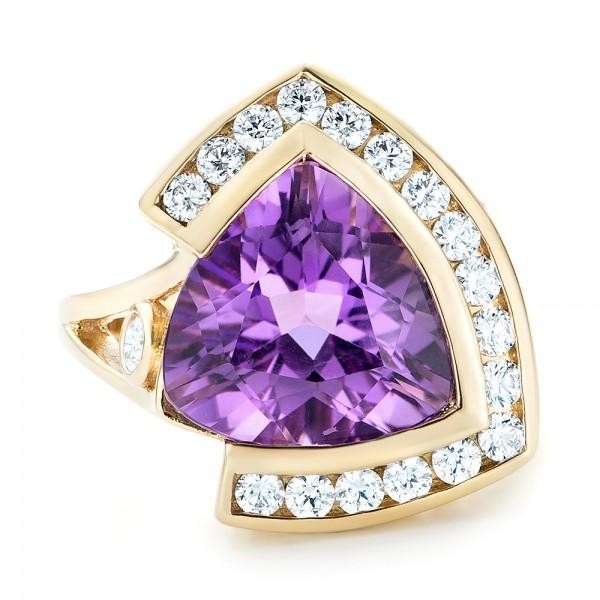 Custom Amethyst and Diamond Fashion Ring
Customization Options
Lavendar amethyst is especially beautiful when paired with diamonds. Also, some of the most gorgeous cocktail rings are designed around a large amethyst.
There are many options for amethyst jewelry, from simple studs to elegant vintage rings.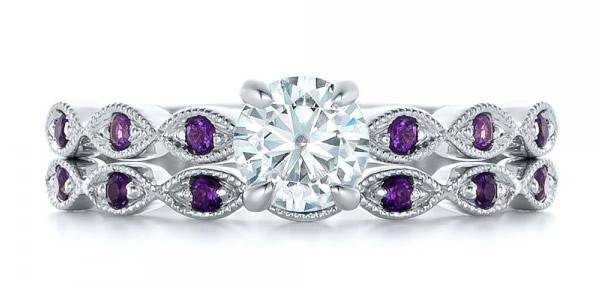 Custom Moissanite and Amethyst Engagement Ring
If you want to add a bit of color to your wedding set but don't know how, you can add a secret amethyst on the side or inside of your enagement ring.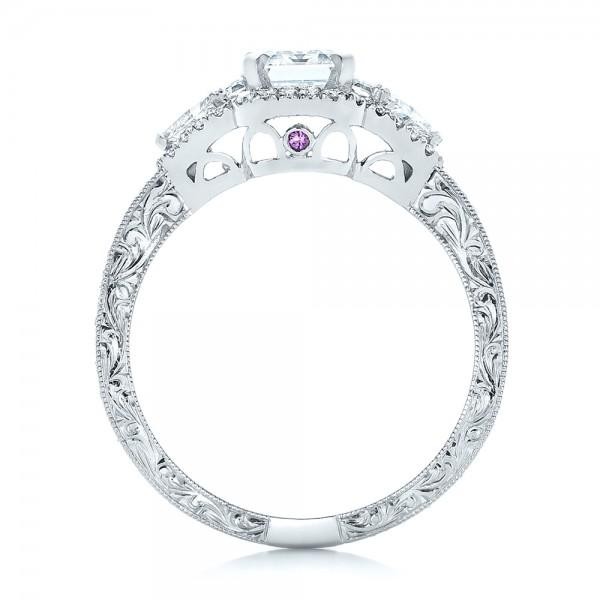 Custom Diamond Halo Engagement Ring
All photos are property of Joseph Jewelry unless stated otherwise.