Guide
How to Create A Custom Engagement Ring Online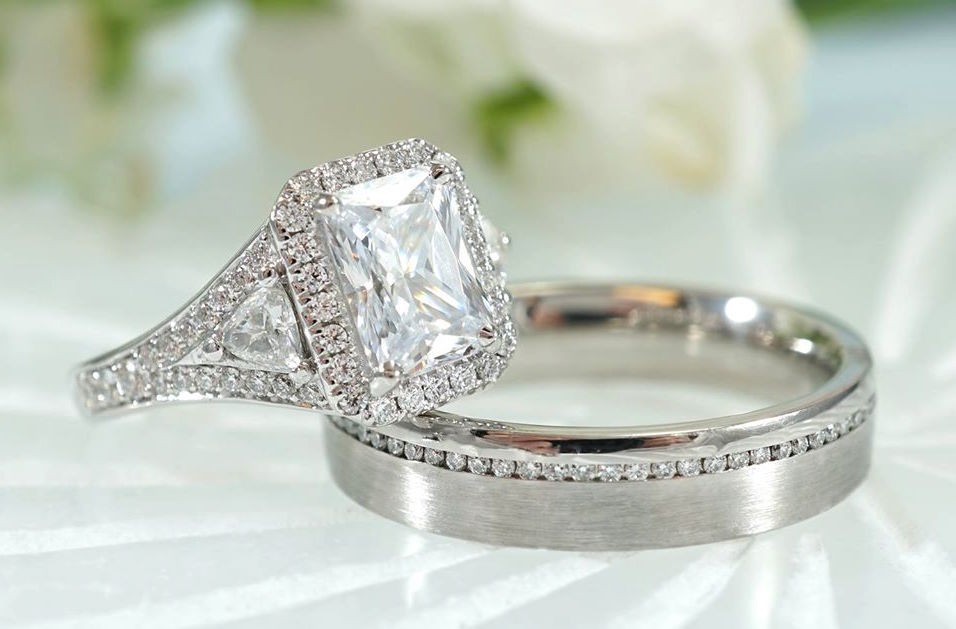 At Joseph Jewelry, we want you to be able to create a unique, meaningful piece of jewelry with total design flexibility. For more than 20 years, we've provided high-end customer service and created stunning custom fine jewelry for clients in our showrooms. But did you know we provide all the same capabilities online to clients across the country and around the world?
You can work with a design consultant and 3D designer, all online, to create a completely unique piece in 6-8 weeks, all through our online portal!
Read on to learn how you can take advantage of our online system, or start a project now.
Personalized Attention from Local Design Consultants
To start a project, we will need some details. The more details you provide, the better. What are you imagining?
From every product page, you can select "Request A Quote" or "Customize This Item". After you select your design preferences and create an account, a design consultant will respond as soon as possible with follow-up questions and more information. Ask anything- our experienced designers have a wealth of jewelry design knowledge.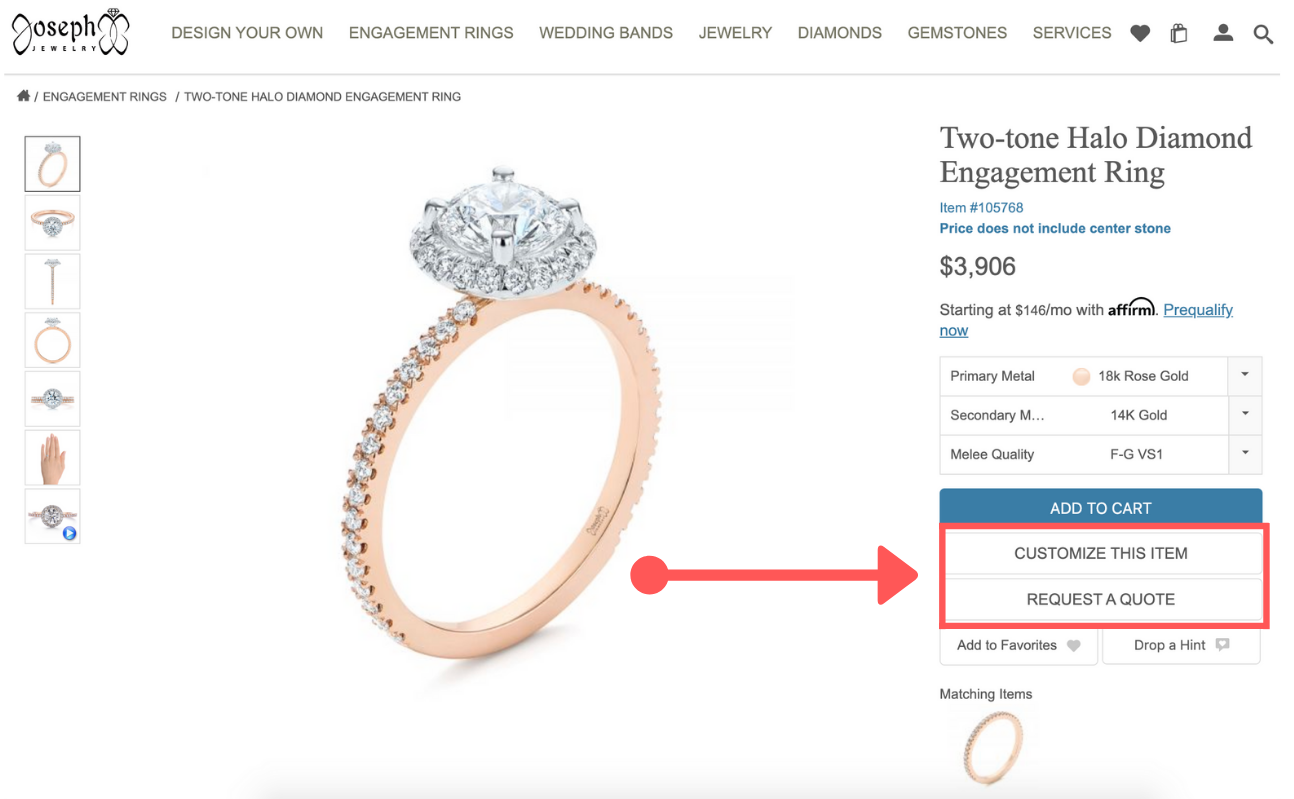 Alternatively, you can fill out our Design Your Own form for a completely custom design. Just as with the option above, a designer will be in contact as soon as possible.
Private Online Workroom & Messaging
All online messages and photos are sent within the private, password-protected portal assigned to you and your account. This keeps all your design notes, price quotes, inspiration photos, and communications in one place. You can access your messages, invoices, addresses, warranties, and appraisals there. Payments can be made in this portal and you can also access some financing options.
By default, when you receive a new message from our team, you will get a notification in your email that you have a new message. Then, you can log in to view it and respond. You may receive reminders that you have an unread message. If you'd prefer, we can send the messages directly to your email or to your phone through text messages. To receive messages by text or direct email, contact your designer. Or, if you would like to turn off all communications to keep it a secret, and just manually check your account, you can do that, too.
Of course, we are real people! You are always welcome to call us directly during business hours, or stop by one of our showrooms to talk in person.
Unlimited Modifications to Make it Perfect
First, your design consultant will work with you to narrow down your design and source a center stone that fits your specifications and honors your budget. We are happy to make recommendations if you aren't sure what to look for. After these details are nailed down with a quote and a deposit is made, a CAD designer will join your conversation thread and send computer renders of the piece in 7-10 business days.
This CAD (computer-aided design) will be proportional to your ring size and the gems you selected. Keep in mind, the CADs may look bulky because they are large on your screen! At this point, we can also ship a wax model to you.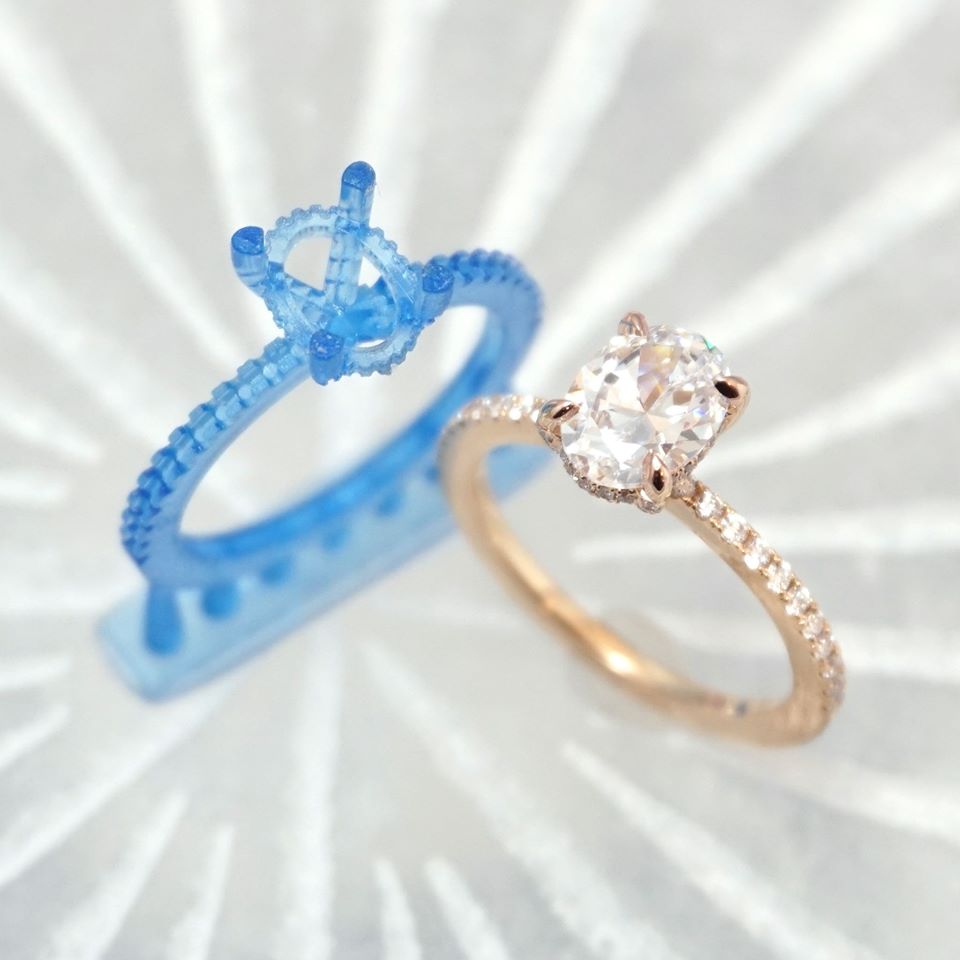 If the design doesn't feel perfect yet, you are welcome to request as many changes as you need. There will never be an extra charge unless you decide to upgrade the materials on your piece, like choosing a larger center stone or adding hand engraving.
When you are 100% happy with the design, there may be an additional deposit needed, and then our bench jewelers will create your unique piece! Production generally requires around 5 weeks to allow our jewelers time to make your piece perfect and quality check every millimeter of the jewelry.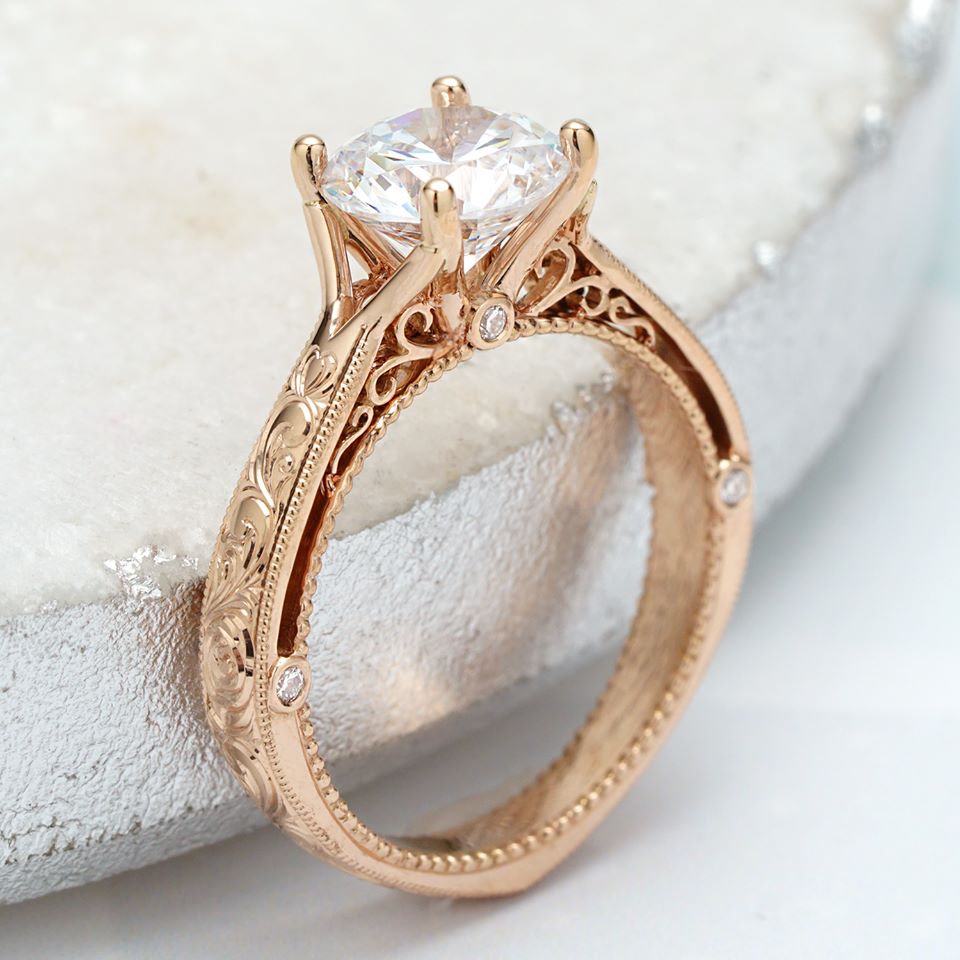 Free 2-day Insured Shipping and Appraisal
As your jewelry enters the final stages of production, our team will write an appraisal for your insurance and will contact your through the portal for final payment. We will also ask you to confirm your shipping address, which can be your home, work, or other safe location. Your jewelry will be fully insured in transit and require an adult signature upon delivery.
Have more questions? Check out our FAQ.
Design your own ring online today!
Additional Online Features
Metal Color Change: Using the drop down, you can change the metal color of the rings on our website. If you don't see the option to do this, feel free to reach out.
Diamond Search: This is a small selection from our vast network of diamond vendors. Reach out to our designers for more options!
Gemstone Search: Browse to see some examples of what colors and shapes are available.
Diamond Stud Earrings: We've made it easy to purchase beautiful diamond stud earrings, and the pricing is transparent.